Lore:Main Page
The UESPWiki – Your source for The Elder Scrolls since 1995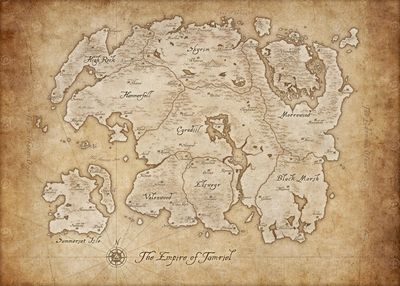 The events of the Elder Scrolls unfold on the vast continent of Tamriel, located on the planet of Nirn (one of the Planes of Existence) in the realm of Mundus. Aldmeris for "Dawn's Beauty" and Ehlnofex for "Starry Heart", Tamriel is home to nine distinct provinces: Black Marsh, Cyrodiil, Elsweyr, Hammerfell, High Rock, Morrowind, Skyrim, Summerset Isle, and Valenwood.
قائمه من المكونات الخيميائية.
قائمة تحتوي على جميع أدوات القوى العظمى تاريخياً.
أرشيف يجمع أكبر عدد من الوحوش الخيالية التي تسكن تامريل وأوبلفيون.
قائمة تحتوي على تعريفات لمختلف المنظمات والجماعات الموجودة في تامريل.
معلومات عن النباتات التي نجدها في أرض تامريل، خصوصاً تلك التي تُستعمل في أعمال الخيمياء.
شرح لجميع الآلهة المعبودة، صغيرهم وكبيرهم، وجميع الأديان لكل الأعراق.
تاريخ العالم، يحتوي على قوائم لحكايات و أهم أحداث تاريخ تامريل.
تجميعة من أهم ما كُتِب في تامريل.
قائمة—تحوي على بعض السّير الذاتية—لأبطال وأشرار تامريل.
معلومات عن مُختلف مناطق، ومقاطعات، ومُدُن تامريل.
Numerous races flourish across Nirn. Some are rare, others live in remote areas or dwell on different planes of existence, while others are believed to be purely mythical.
Articles on language, calendars, lineages, magic, and other miscellaneous subjects may be found in the appendices.
Names — A list of common first and last names by frequency